As we mark the end of Birmingham International Fashion Week 2015, here are some of the highlights from the show. On behalf the creative team at Elpromotions, we hope you enjoyed the show as much as we loved creating it for you!
  Birmingham International Fashion Week has officially concluded its 3rd season on Sunday 5th of September 2015.
This year's diverse catwalk featured over 12 international and British designers, including ready-to-wear, couture, millinery, footwear and jewellery. 

Green Embassy (Australia) 'Silent Rainforest' Eco Couture Finale

Green Embassy (Australia) Eco Couture Show Finale

Hazel Gonzalez Luxury Jewellery (Costa Rica)

Jayne-Elizabeth Millinery millinery
Birmingham International Fashion Week featured more than 12 designers presenting their Spring Summer 2016 collections.
In addition to beautiful designs, BHMFW crowned the 'The Face of the World 2015′ Model Competition winners live on stage.
Well done to all the male and female models for taking part and entering the competition.
You can visit faceoftheworld.info website for more information and apply for next year.

The Face of the World 2015′ Model Competition Winners

Segrid Allen Swimwear (USA)

Maliha (UK) Couture Runway Show

I.Kollection (UK) Runway Show

Official Backstage Make up Team – Make Up London Academy (MLA)

Fashion Lounge & Showroom with designer collections from Jayne-Elizabeth Millinery, Green Embassy and Maliha.
This year's show featured a fashion panel with interesting and motivating keynote speakers. The event welcomed a fashion brand strategist, Fabian Hirose, Blogger/Vlogger, Becky Sheeran (TalkBeckyTalk) and Bianca Miller (The Apprentice 2014, Bianca Miller London, The Be Group). 
All three panelist provided thought-provoking and inspirational talks about different aspects of the fashion industry. 

Becky Sheeran

Bianca Miller

Keynote Speaker and Fashion Brand Strategist Fabian Hirose

Miss Birmingham 2014 with Miss Birmingham 2015

Host and Presenter Lewis-Duncan Weedon
Designers and Sponsors
Birmingham International Fashion Week did it again by bringing such vibrant talent to our city. Designers from USA, Australia, Costa Rica and Middle-East all showcased their top SS16 collections.
An impressive designer line up included I.Kollection from London with stunning Couture gowns and handbags whilst Maliha brought a taste of East to the Runway.
Birmingham's own Arabel Manners opened the show on Friday with luxury plus size Footwear. Miami fashion designer Segrid Allen surprised us with the fabulous Couture dresses and swimwear on the Saturday.  
Other designers included, Hazel Gonzales from Costa Rica, Jayne-Elizabeth Millinery, Maliha and Green Embassy.
Mary Hunter, who won the 'International Fashion Student Competition Winner' showcased 6 of her top Spring Summer 2016 dresses.
BHMFW Runway Shows were sponsored by LetUsFindIt and miraDry. 
Elpromotions would also like to thank all the amazing sponsors including Macdonald Burlington Hotel, FashionUnited, miraDry and LetUsFindIt.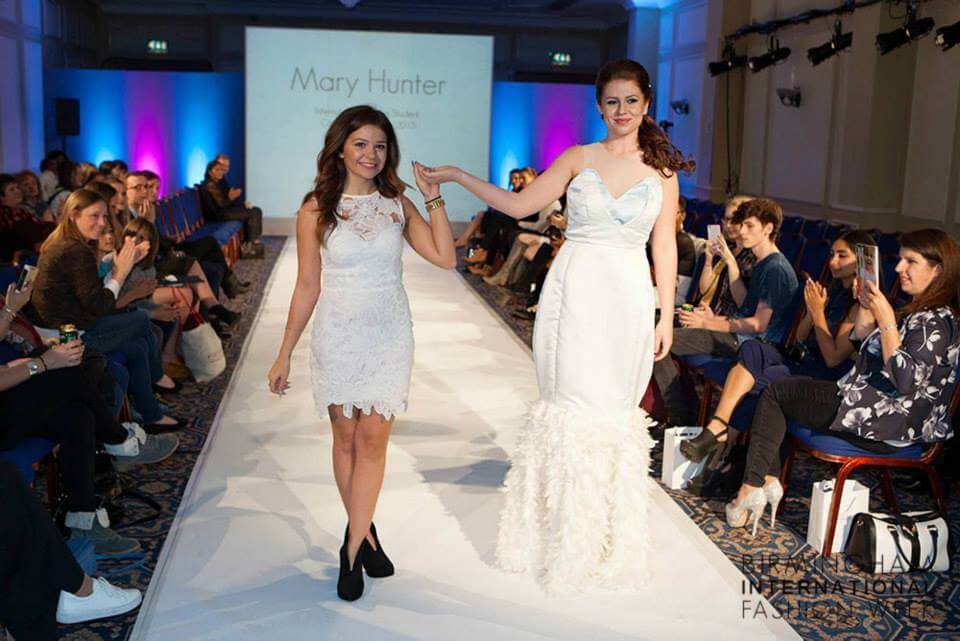 Mary Hunter 'The Winner of the Fashion Student Competition 2015'

Make Up London Academy Masterclass on 'How to contour like a pro.'
What did our guests think?
'Thank you Eliis for the opportunity. You and your team did an amazing job.' – Queen of the Crop® (VIP Gift Bag Sponsor) 
'The Arabel Manners team really enjoyed it. We are in Fashion recovery right now! What an amazing 2 days! Bring on the next!' – Arabel Manners (Designer) 
'Such an incredible evening yesterday for the Birmingham International Fashion Week. What a great venue and incredible company and talks!' – Miss Birmingham 
'In terms of style, Venice Film Festival and Birmingham International Fashion Week have a lot in common.' – Mabel Now (PR)